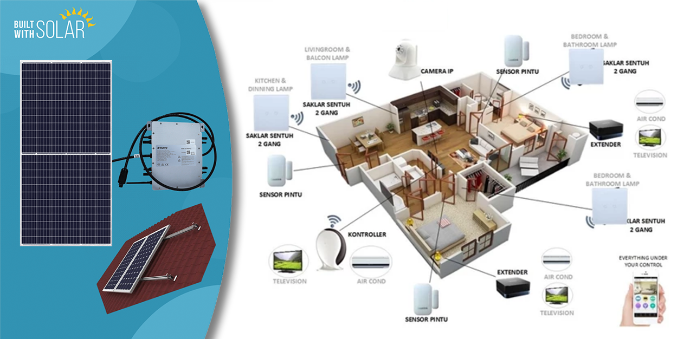 You certainly have heard the term smart home office, this title there is linking to the house in which there are facilities such as libraries, tutoring, training center and skills. What we want to discuss here is a smart home office design and the interior has an Access Control System using smart system technology like this.
This package consists of:
- Controller (1 pc)
- IP Camera (1 pc)
- Touch Switch (4 pcs)
- Sensor Doors (3 pcs)
- Extender (2 pcs)
Range Cover Room in 1 floor:
- Family room
- The main room
- Children's Room 1
- Children's Room 2
- Kitchen / Dining Room
- Toilet
- Porch / Home Page
- Living room
Features:
1. On, off or setting AC, TV, Music Box, Robot Vacuum and other IR devices in 3 separate rooms via mobile phone.
2. Turning on or off 8 groups of lights through mobile or manual through the touch switch.
3. Live Stream Monitor picture or sound via IP camera and recording function through SD Card.
4. Security function on door sensor:
- Read the current door status whether it is open or closed.
- Provide alert notification / alarm when the door is open when not at home.
- performs IFTTT function (If .. Then .. Then ..)
- Schedule / timer function
For example: Automatically turn on the home / page lights when at 6 pm
Automatic turn off ac room, house headlights, when at 5 am etc.
5. Scene Switch function on the application
Turning on / off some light groups, group AC, etc.
For example: Master OFF Button, Master On Button, Button Mode Mode, Morning Button, Back Home Button, Sleep Mode Button
6. Monitoring the status of lights and doors, temperature, and humidity of the room. Whether the light is currently on or off, the door is open or closed. What is the temperature and humidity of the room at this time
7. Data logger notification
Knowing what time and date the door is opened, etc.
8. Room Management
Division of group of light switches, as well as remote AC per room.
9. IFTTT Function (If .. Then .. Then ..)
For example: if the bathroom door is open, then automatically turn off the bathroom lights
If the bathroom door is closed, then automatically turn on the bathroom lights.
Product Warranty: 1 year after installation
Price includes installation